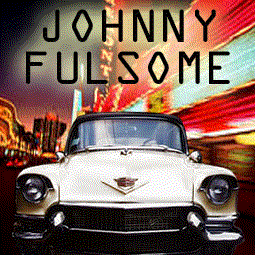 This is what listeners at Garageband.com have to say about
Johnny Fulsome:
" Decent Rockabilly meets Julio Down by the school yard vibe"
"This sounds like Elvis or something."Anonymous - Neptune, New Jersey
"boogie country: well crafted boogie woogie country song".
"country on fire"fur_china - Midway City, California
"Energetic and sexy: Very Glenn Campbell, fun song " LA222 - Los Angeles, California
"Ring of Fire: Am I stupid or do you have a Johnny Cash influence? This is an old style song, this would make an interesting track for a movie scene. A short, fun, good track" Rock_Rev_Adam - Greeley, Co
"This Truckstop has the best Shit on a Shingle!...has great poptential". TVegas - Phila., Pennsylvania
"Johnny Cash meets Neil Young" DedRinger - San Jose, California
"Elvis Cash: This song has a catchy Johnny Cash sort of feel." BrianQ - Victoria, Bc, Canada
"I checked out "Johnny Fulsome" and I'm floored. Really, really cool vibe;it reminded me of my Sun Studio vacation stop in Memphis last year. Keep it up, I'll be ordering your cd." - Michael Danser
"Smacking of Cash... Sort of reminds me of Johnny Cash on smack. And that is a fine, fine thing. It's a cool song, well written..."raycharles - Atlanta, Georgia
"Rock-a-billity! loved the lyrics!Had a Johnny Cash meets Stompin Tom Conners thing! I am not a country/rockabilly fan but this song engaged me! "Anonymous - Toronto, Ontario, Canada
"I bet these guys are a blast live." Wetah - Squeegee, Mississippi
This one made my day: "That Ruled! You Rock! This Is One Of The Hottest Songs I've Heard In A Long Time. It Sounds Like A Song I Would Hear On The Radio! I Really Really Enjoyed It! I Hope That I Can Hear More Music From You This Is The Greatest Song I've Heard On This Web Page! I Give You 5 Stars. It Just Blew Me Away When I Heard This! I Called My Mom In The Room And She Liked It! She Doesn't Like Anything That I Like! Keep Up The Good Work And Hope To Buy Your CD At Best Buy One Day!" Crazy27653 - Mundelein, Illinois
This one didn't: "elvis has left the building! elvis is dead ok give it up!!!!!"sanfrandisco - London UK
"Classic country is where it's all at. This song definately kept with the tradition of having clever lyrics to back up the theme of the song. The song is simple and easy to get in to, and the whole Las Vegas/Elvis vibe gives this song character." Surfgoat3k - Liberty, Missouri
"I got the rockin pneumonia and the boogie woogie blues. This song reminds me of good old rockabilly (Johnny Cash/Elvis)" JulianL - Romeoville, Illinois
"Vegasly interesting! Cool song man! The singer really has a lot of control... I like the overall good mood of the song. Good work!" Polmol - Angers, Québec, Canada
"This Band Follows The 'K.I.S.S.' Rule!!!! Its good to see someone have the courage to follow the K.I.S.S rule (keep it simple stupid). The simplicity of the song gives it a charming, refreshing feel. Great mood, and lyrics. This song was short sweet, and to the point. I think more bands ought to look into this form of writing instead of complicating songs with modern-day contrivances. Good work." Honeypickle - Beeton, Ontario, Canada
"Primus in a car crash with Johnny Cash. Details at 10. Country Primus. Strange indeed. An all right song." DrLoveGun - Omaha, Nebraska
reviews from Audiosurge
Review (8 stars) by preskeepreal on Mar 20, '01 @ 11:29 PM;I dig that country swing thang,, let's get this stuff back in the mainstream
Review (9 stars) by tendoc77 on Jan 16, '01 @ 2:49 PM: Lari, Great tune. By the way, It appaers as if you've been influenced by Johnny Ca aa sh!
Review (10 stars) by bettiemarie on Nov 19, '00 @ 1:04 PM: I have to say, I really did enjoy the music and song. Hope to hear more from this one
Review (10 stars) by tara26 on Jul 28, '00 @ 7:36 AM: WOW I loved it! i want to hear more from this band they rock
Most of hese reviews are written by listeners at Garageband.com a fun music reviewing site.Thanks to all the FOLKs who took the time to listen to and write a blurb about Johnny Fulsome. A few bad reviews have been edited out for lack of good penmanship.
Out of a total of 41 reviews Johnny Fulsome has been compared to:
Johnny Cash :14 times
ELVIS : 7 times
Stompin Tom Connors : twice
Glen Campbell, Neil Young, Primus : once
Johnny Fulsome is an attempt at writing a Johnny Cash style song in an Elvis in Vegas manner. That got through I guess.
As for the other guys I didn't think of them at all, and had never heard of Stompin' Tom, but those are ok comparisons by me.
Win the Johnny Fulsome CD!
Johnny Fulsome was written as a tribute to a Johnny Cash song.
Do you know which one? This is easy!
The first emailee with the right answer wins a CD!
Give your answer here : Too late! Wow! We have a winner: Thumbs up to the Olson family from Kansas who gave the correct answer: Folsom Prison blues, the great Johnny Cash classic
Contest open to all participants from all parts of the galaxy with the exception of Chris Thomas & Perry Argel Leopard